G'day,
I am Geoff Boxell. I have many hobbies which include motorcycling, speedway, English history and traditional jazz.
I read a lot, especially books to do with history, particularly the Anglo-Saxon & English Civil War periods. I am the author of an historical novel called 'Woden's Wolf' published in NZ by Gama Books. It deals with the effects of the Norman Conquest on the English. I further explores the subject with an educational CD-ROM, '1066 & the Norman Conquest'. Books of Old English tales for kids are Big Bold Beowulf and Hard Hero Hengest. If you just want to listen, as opposed to reading, then I have Tales of Old England, an audio CD. Details of these products are on our Wendlewulf Productions site .
Another book I have written is,''Just for Kicks', which is a semi-autobiographical novel about my time as a Rocker in the 60s. Classic Bike magazine describe it as ".....solid gold nostalgia that rings true to the last word." Mike Sarne, who had a hit with the song, 'Just for Kicks' in the early 60s wrote: 'That was an extremely atmospheric book: great.'
As a result of my interest in history I am involved with the SCA Canton of Cluain, Barony of Ildhafn, Kingdom of Lochac. I have more than one persona, but my usual one is as a yeoman archer in the 100 Years War.
I am an active Christian and attend the Te Awamutu Bible Chapel. For many years I have been involved in youth work for the church.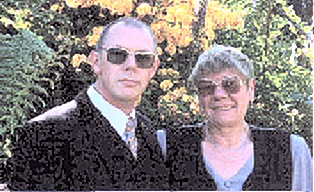 My wife Lyn and I have three sons, 5 cats, two whippets. We have an interest in a goat (see The Wulfings page). We live on a large section with lots of trees and flowers and spend a lot of our time working in the garden.
I was born at Earlsfield in South London, and my wife was born in St Mary Cray, Kent. We have lived in New Zealand since 1969, taking out NZ citizenship in 1972. To find out why we came and why we stay see this page.
If you are interested in any of the above I would love to hear from you:
Geoff Boxell.
Email